After a couple of tastings and some barhopping, Mr. Asta Morris was ready for his last tasting in town. Correction: his last tasting of this visit to Hong Kong! At the cosy Music Room at Potato Head, the new releases of Asta Morris were lined up for our guests to taste.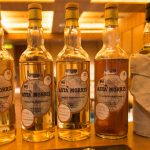 The Safari Series
Aultmore 2006/2016 – Scotch Single Malt
Benrinnes 2006/2017 – Scotch Single Malt
Girvan 2006/2017 – Scotch Single Grain
Glenburgie 1999/2017 – Scotch Single Malt
At Whiskies & More, we always want to bring something special to our guests. For this tasting, Bert was kind enough to bring one of his first few bottlings as the mystery dram of the evening. During the tasting, everybody was guessing what the mystery dram could be. Scotch and Speyside region was pretty clear, however, it was not easy to guess the distillery, the year and the abv!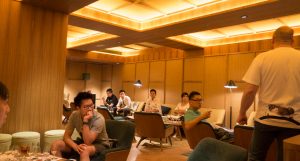 All the guests had a lot of fun guessing and in the end the Mirror on the wall revealed the mystery: a Dailuaine 1983, bottled in 2011 at 50%.
Can't wait for the next tasting with Mr. Asta Morris.